Forgive me for missing a couple days here during my week to blog. My youngest son came down with a horrible virus, then yesterday a family matter came up, so I took my daughter out to see her grandparents. While we were out, we had breakfast and then the three of us took the baby and did some shopping.
Now my daughter isn't a typical teen. She's eighteen and wears clothes until they practically fall apart instead of begging for the latest new style. Since her jeans are all in dire need of replacement, we concentrated on buying news ones and getting other odds and ends she needed such as undies and a new bathing suit for warm weather, which is right around the corner (I hope!).
I noticed something while shopping. Why is it that a woman can find all sorts of lovely panties, bras and other under garments, but today's bathing suits are hideous?
As my daughter and I combed through three big, round racks of bikinis, I looked over at her and asked, "What is it with the crappy patterns and designs that make your eyes cry for mercy? These colors and patterns look like someone ate a box of crayons and yakked them up."
"Oh, Mom, they're not that bad," she replied.
I held one up and gave her "the look."
"Well," she said, "maybe that one is."
"No, they ALL are!"
And whatever happened to bikinis that use good elastic in them so that the swimsuit molds to the figure and compliments it? Every swimsuit I saw yesterday was all about strings tying at the hips, strings threaded through where the elastic should be, and strings through the tops just like the bottoms.
My daughter has such a bikini that someone gave her last summer. Every time she wore it I was thankful I hadn't wasted money buying such a suit because when wet, the bikini sags across the bottom and droops around the bust line.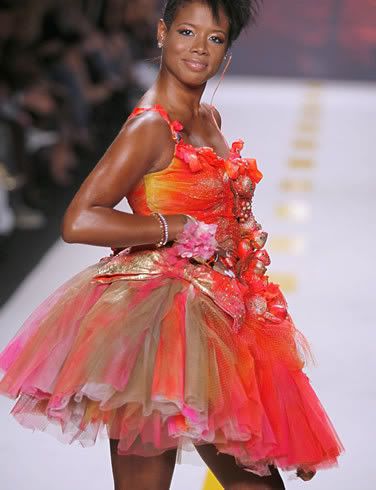 I didn't like the style of the late 70s when I was entering my pre-teen years and I don't like it that the style seems to be here again and lingering. Granted, this is just my opinion, but I heard moms and teens talking in various department stores about this style issue, not to mention the mom's complaining about how short many of the prom dresses were on the racks.
Whatever happened to young girls looking feminine? Whatever happened to women being able to find clothes that flatter their bodies instead of what fashion "thinks" is feminine or sensual?
Give me the styles that compliment a woman's figure instead of shouting 'look at my boobs and ass!' Give me feminine, stylish. Put away the droopy drawers, gaping tops.
Not long ago, the dau and I were over at St. C's mall at a store called Gabriel Brothers. We were both looking for jeans. My dau isn't nearly as tall as I am, but she has the same shape as her mommy. She has boobs, a waist, and hips. She started yanking jeans off the racks in irritation then slamming them back on them again. A woman nearby kept giving us odd looks as she moved toward us. Finally, she came around the rack I was sorting through and asked, "Is it just me or are all jeans made for stick figures, board asses, and short legs?"
"No, it's not just you. We're having trouble finding jeans that fit too."
"I tell ya," she said, "I've been to nearly every store in town, and no one carries decent jeans. And I don't want relaxed-fit jeans unless I'm outside working. I hate ordering stuff online when I need it now, and online stores ream me on the shipping and handling."
I knew exactly what she was talking about. Relaxed-fit jeans fit me around the waist and through the legs re length, but they always look like they're three or four sizes too big no matter if I wear my size or try dropping down a size.
I get so tired of seeing every young woman's or girl's ass crack in the nation popping up to say "howdy-do!" when I go out to shop or turn in a restaurant and see three inches of bare ass three feet away. It's cute on a baby, yanno? But not on a full-grown body. I'm sick of seeing guys wearing jeans so that the crotch is down around their knees so it looks like a load of shit is pulling them down, and I'm sick of pencil jeans that look like they've been spray-painted on.
The fashion industry needs to wake up. People come in all shapes and sizes. We're not all runway models whose ribs are showing like starved dogs.
And when the hell was a size 9 considered plus size????????????????
What's your pet peeve about today's styles?