I realize that everyone has his or her likes, dislikes and preferences. I like Caffeine Free Pepsi Zero whereas my oldest dau likes regular Pepsi. One person prefers pop in a glass and another likes it in a can.
Some women insist on having their nails done while others are content to paint their own.
One man insists on blondes but another likes redheads. Tom likes Nikes, but Dick prefers Pumas.
Here's one I'm firm about when it comes to underwear: I prefer the boys' briefs made for ladies.
Granny panties have their place during that time of the month. They're comfy and they reflect our mood well during that time.
Thongs, however, are a medieval torture device. I'm convinced of this.
Yeah, I get that there are people out there who prefer thong underwear, but I'm not one of them. My oldest daughter had a few pairs she'd wear, but only if all her other undies were in the dirty laundry. Once the elastic failed said pairs of thongs, they hit the garbage can.
I'd always tease her about having worn them, but she does the same to me when we're shopping for underwear.
"Hey, Mom. Look at these." She'll hold up what looks like a small tangle of red or blue dental floss.
"No."
"Why not?" she'll ask. "You'd look good in them."
"Number one, when I fart, I don't want to hear Bluegrass music coming out of my ass, and number two, I'm not into self torture nor do I want to be picking a permanent wedgie all day. If I want to relive my wedgie days, I'll go back to high school or I'll celebrate the 1980s again by wearing a pair of spray-on jeans."
Usually, by this point, my daughter is cracking up, so I know she keeps at me about the thong undies just to see what smart-ass remark comes out of my mouth. What she doesn't realize, however, is that—I'm being perfectly serious!!!
Butt floss. There IS a reason someone gave thong undies this nickname!
One of my faves to call them is 'hemorrhoid polishers'. Seriously, other than torture that's the only thing this style of panties is good for.
I like a pair of panties to fit snugly, but not cut off my circulation, and I don't want them so high I might as well wear 'em as a one-piece swimsuit; I hate it when I put on a pair of jeans and four inches of my undies are sticking out of my back waistband. I like the kind of panties that will bend and move with you (jeez, I sound like a commercial for Hanes Her Way!). Ever wear a g-string and squat or bend over? Take my advice...
DON'T DO IT!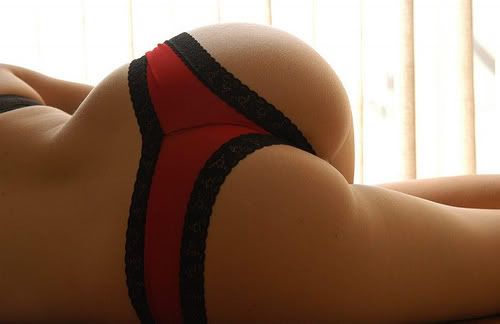 That little string only makes the ass crack deeper! Whoever invented those damn things should have installed padded emergency airbags in case of sudden bending or squatting.
Yowza.
Same thing applies to thong bikinis. If you're gonna wear one and sunbathe in your backyard or on a rooftop, fine. But A) I don't want to see some chick's or dude's ass cheeks flapping around in the wind while I'm at the beach trying to take in the scenery. B) Only buns of steel look good in thong bikini bottoms. Sagging tushies or hairy asses parted down the middle with a bright pink string only serve to give people nightmares and years of therapy.
Besides, it only takes one li'l grain of sand and a g-string bikini bottom to ruin your life. That one li'l grain of sand caught under that thong will feel like Jethro parked a tractor-trailer in your ass crack.
The only reason I can think of that a pair of butt-floss undies is good for is enticing your significant other. Throw a pair of stilettos on with the panties and you're good to go, because those torturous panties won't stay on long enough to bother anything.
So what sort of underwear person are you?
Boxers or briefs? Granny panties? Thongs? El commando?