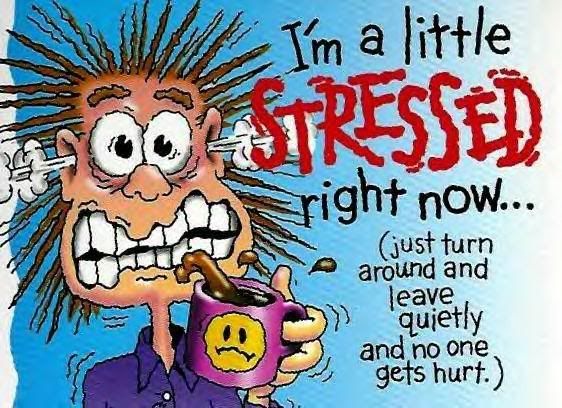 Allow me to whine, pass me the cheese, and then share with me your woes, because I know we all suffer this horrible feeling from time to time. It's something I'm going to rant about just to make me feel better. As odd as it may seem, it's comforting to know that we all have this frightening moment.
The past three weeks has tied me in knots on a professional level. Work is booming for lack of a better expression, and whenever I stop and think about what I have on my to-do list, the time I have to accomplish it in, and trying to schedule all of it around my oldest daughter's online schooling, it tends to make me a li'l buggy.
Don't take that the wrong way; I'm thrilled about my work. I really am. However, the stress? I could do without that part.
I write as F.L. Bicknell for my agented work and some of my more serious e-books, but I also have four other pen names. As a result, I have a lot of contracts to honor, but the ones that do my head in are the series. I have three contracted series I'm writing with two more under consideration [pass me the smelling salts].
Readers don't realize the time-consuming stuff that goes into a contracted manuscript. The forms that have to be filled out for artwork, for shorter blurbs and long blurbs, and signing up for publishers' loops (if it's a new publisher you've signed with), the time it takes for some editors to answer questions, and then there's the cover work that doesn't fit the story, so then you have more correspondence with the artist...it can take days to sort out a lot of this stuff.
And it all goes on while a full-time freelancer is going full bore on projects.
I'm a stay-at-home mom, so I write full time—literally. I get up with my youngest and have him on the bus by 8 AM at the latest, take my 20-minute walk, then I come in grab a hot cup of coffee and start working. After about three hours, I break for an early lunch, do a couple of chores, maybe relax for 15 minutes, then I either grab the laptop and work with the satellite music on or go back upstairs if my dau isn't doing schoolwork.
Later, I look at what I've done for the day. Sometimes it's a mix of promo, blogging and writing. Sometimes it's all writing. Some days it's all online work.
Add to this list the private clients whom I edit for, and I also freelance edit for special publishing projects. I'm paid in advance for that work, so when I get a manuscript, I have to address it before anything else—but I have deadlines to meet on contracts too.
Now, where the "Red alert! Panic Mode!" comes in is when I'm lying in bed unable to sleep. Those middle-of-the-night moments when you wake up at 3:15, stumble to the bathroom, stagger back to bed, and crawl under the sheets and...
BLINK.
WHIR! BUZZ! DING!
"Attention all K-Mart shoppers. The Brain is now officially on and fully functional. Have a nice day."
Damn. I'm awake.
So you lay there and start thinking about what bills you have to pay that week, appointments that must be kept, things your kids have talked to you about for school, and then you switch to work mode.
Big. Stupid. Mistake.
A horrible piercing sensation hits you right in the middle of your stomach. You know the area, right there below your breastbone. STAB! Next, your breathing becomes erratic. You break out in a sweat. You sit up and pant, eyes bulging, more sweat coats your skin, and sometimes if it's really bad, a whimper pops out of your mouth and you think, "OMG, I'm going to die! I can't breathe! Air! I need air!"
At this point, I throw the covers back and wander around the house until the sensation passes. Sometimes it fades quickly. Other times it takes me a good half hour to calm down.
Yeah, you gotta love those good ol' fashioned panic attacks, eh?
I've had a couple of these the past week. I love my work. And anyone who has known me a long time online has made the same comment to me: "Faith, you're not happy unless your plate is too full. You thrive on it."
Yeah, I guess I do.
But the panic attacks at 3 AM sucks ass!
Usually what I do is make a list and when I see I'm marking things off my list, the panic attacks go away. Sometimes it's just a matter of knowing the word count for such and such project and such and such series is going up, up, up that settles me down. But when all else fails, a hot bath in the middle of the night can do wonders to soothe the soul and the mind.
This is something we all relate to and that we all can commiserate on, so share with me your panic attack moments and any remedies for them. Is it a cup of coffee and an hour of mindless television? Maybe you read for thirty minutes?