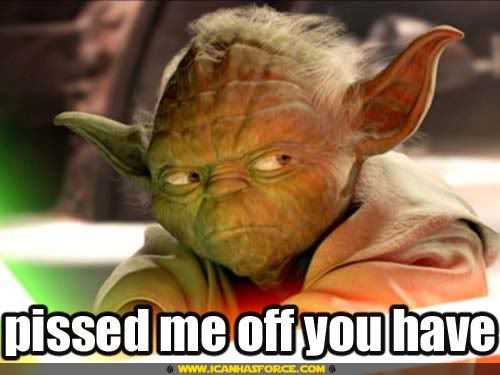 I
t's my turn to blog this week, so I thought I'd launch it by posting ten little things that irk me to no end.
1. Guys who email me on MySpace or Facebook telling me how beautiful and sweet I am only to leave their phone number, asking me to call them.
Oh sure! I'll stop what I'm doing right away, call you in Bum Effed Egypt, run my cell bill to the moon, and chitchat about how the sky is blue, puppies are cute, and you are too—NOT!
2 . Telemarketers who, no matter how many times you tell them you don't have Northern Gas Company in your region, still try to sell you their heating fuel.


Hey stupid! Why don't we telephone Hell and ask 'em if they want to sign up for North Gas Company's services? I bet Hell could use a li'l help, so tell 'em I sent you!
3. Satellite stations that advertise a movie from 8 PM until 11 PM just so they can fit in two and a half hours of commercials.


Damn, I can take a bath, make a snack, put the cat outside, AND take a dump and be back just in time to pick up where the movie left off!


4. Notebook paper that has that "wonderful" waxy sheen on it.


What IS the point of that wax-like coating on paper? Try using a pen on it...ha! Start to write a note or a letter and it's: "Write, dammit! Write!" BAM! BAM! BAM! Sometimes I'll get so ticked off over it the notebook AND the pen hits the trash can.


5.

Ice pops that are no more than colored-ice.

Oh, gee. I guess the food company forgot to put any freaking flavor in my batch...again!
6. Late-late night TV that is all infomercials.


Make sure all guns, rifles and pistols are out of the house as you flip through the satellite channels after midnight. The temptation is just too much. Trust me on this!
And did you know that there's even a sex infomercial being aired around 3 AM???


7. Tortilla chips that do not have warning labels on them.


Seriously, have you ever sliced your tongue or gums on these things? You're chomping away, and suddenly a piece of your tongue falls out and you're...gurgle! ACK!


8. Rugs that state they have slide-resistant backing.


Do not, I repeat, do not believe that warning. It is a lie!


9. Dusting sprays that promise to repel dust.


HAHAHAHAHA!!! Whoever came up with those chemical solutions has obviously never lived in the country.


10. A vampire named Edward.

Jacob can kick your ass any day. And he's pretty to look at too.

So what little things can you randomly list that piss you off?