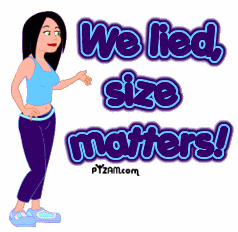 He's built like a brick shithouse. Tall. Lean. Muscles out the ying yang. Powerful thighs and arms. The kind of man that makes a woman melt. Anticipation alone leaves you breathless. And then it happens. He strips out of his clothes and your eyes naturally gravitate to the Promised Land and you think…
"Okay. Just what the hell does he think he's going to do with that little bitty thing?"
But! That's not the kind of "sizing" I want to talk about today. LOL
Has anyone besides me noticed all of the downsizing restaurants are doing these days? Seriously. And it's pissing me off. Why? Because not only are they downsizing portions, but they are UPsizing price!
I first noticed it a couple of weeks ago at Bojangles. As I've mentioned here before on the blog, I love a morning iced tea from there with plenty of lemon. So I hit the drive-thru a couple of weeks ago and they no longer have medium teas. It's now small, regular, and large. The large is just too damn big. Hell, the ice would water down the tea before I was halfway finished. Not good. And the regular? About 12 oz fewer than the old medium. And the price? Twenty freaking cents MORE!
So, I told the manager, yep, I called the manager to the window and said: "I love your iced tea, but you just lost me as a customer. It's now too expensive and the portion too small for that price." Well…you know that got me a shrug and an almost-hidden eye roll. Screw it. I now make my own tea. I WAS spending like thirty bucks a month on that morning tea. So basically, I'm better off.
Three nights ago, the kids wanted Chinese. So I called in an order and had it delivered. I didn't want any. I'm trying to be a good girl and stick to healthy foods these days. But the order came. I was on the computer and the boy ran out and paid and they all sat down and ate. When I got up to go and get myself a glass of ICED TEA, LOL, I noticed the size of those boxes the dinners came in. HALF the freaking size of the old boxes we'd just ordered maybe three weeks before. I flipped! I was charged the same damn price and got HALF the portion. WTF?????? So I said to the kids: "Last time we get delivery. From now on if you want Chinese, you'll be going to the buffet so you can eat enough for three damn meals." I don't know about the rest of you, but I need some damn hellacious kissing before I get screwed!
Burger King. Yeah, let's talk about Burger King. My boy loves those original chicken sandwiches, add cheese. I picked him up at school yesterday and he just had to have one. Told me he'd been thinking about that sandwich all day long because LUNCH just sucked. I gave him money for lunch yesterday instead of packing it. His idea. Not mine. Anyway, we hit the drive-thru and order the sandwich. I paid for it. Noticed a not-too-small increase in price. Shook my head, said nothing.
But when that boy of mine opened up that sandwich? HE went ballistic. It's about one third smaller than the OLD original chicken sandwich. Not only that, but I checked the receipt and they'd charged me not the regular twenty-five cents for cheese per slice--two on that sandwich--but sevnty-five cents each for that processed food--yeah, it's not even real freaking cheese! And get this—remember I'm trying to eat a bit healthier these days—I went through Burger King this morning because I saw a commercial about their new English muffin breakfast sandwiches. English muffins. Cool. So I ordered one with just egg on it. No cheese. No meat. Healthy, remember? Opened the damn thing and IT'S about one third less in size than an average English muffin. Can you believe that? So NOT worth the price I paid. Just not.
What the hell is going on? Gas prices are through the damn roof. And now we're going to starve to death or pay out the kazoo for it? My kids are in for a big damn shock. There is going to be one hell of a lot less take out, delivery, and drive-thru runs in their future. If these places thought no one would notice, they were wrong. And I bet I'm not the only one. So instead of them making more? I believe they have simply screwed themselves big time. And I hope nobody kissed them too!
On the publishing side of my life, lol, I've had some great news. My erotic historical romance, Sunlight and Magnolias, is a finalist in Passionate Ink's Stroke of Midnight Contest. Also, Black Cougar Curse, co-authored with Natalie Dae, aka Sarah Masters, won Book of the Week at Whipped Cream Reviews...AND...Twelve Days of Love, my hot, hot, highly romantic short novel from Ellora's Cave just won Sweetheart Book of the Week at The Romance Studio. So I've had a pretty good week, all things considered. Now if I could just straighten out all these damn restaurants. sighhhhhhhhhhh Oh, and the Middle East and gas prices too!
Stop by Ellora's Cave and pick up a copy of my books. I need the money. LOL http://www.jasminejade.com/m-701-tess-mackall.aspx Gas is only going to get more expensive, and evidently so is food. Ya'll don't want me walking or going hungry, now do ya? LOL
Hugs...and happy reading and writing to everyone!