Prepare yourselves. I'm about to cut loose with one of my famous rants.

Why?

I was stupid and went out on government check day which was also Good Friday.

Now, I truly realize why gov check days are so hectic. People on any sort of fixed income are out of everything by the time their next deposit or check arrives, so they rush out to buy what they need. They also pay bills that day, fill their cars up with gas, and so on. This is why I avoid doing my shopping during the first of each month. This particular time of the month turns everyone into raving lunatics—myself included when I have to deal with the anal behavior of said people.

All I had to do was go into Save A Lot and then Riesbecks, our local family-owned grocery chain.

Simple, right?

Wrong!

My two youngest were with me on Good Friday. I warned them that it would be busy and to stay close and not lollygag. They helped me in the store, and before I knew it, we were done with our shopping. I thought, wow, this didn't take long and it wasn't crowded at all.

That was until we started toward the front of the store to check out. People suddenly came out of the woodwork. It was like flipping on a light and watching cockroaches scatter in every direction. I stood there thinking, did someone shout "free money!" at the front of the store or what?

Worse, they were all elderly folks and another couple who were stupid like me and went out on the wrong day.

Steeling myself for the worst, I approached the check-out—and only one was open, of course. An elderly couple stood there finishing up their order. The conveyor belt was empty. Let me repeat: EMPTY.

I started putting my groceries on the counter halfway back from them so I wouldn't disturb them or make them feel like I was trying to push them out of the queue. The old man shoved in between me and his wife who was paying for their stuff. He kept shooting me dirty looks.

Then is wife takes out a check book. Lord have mercy and give me strength. I kid you not, it took her ten minutes—count 'em, ten!—to write out a personal check, when, I might add, the register had the auto-print feature. All she had to do was sign her name, but no, she stood there ten minutes writing the check out. What took her so long? I have no idea unless she writes that slowly or she didn't have her glasses.

The elderly gent then began pushing backwards, sticking his rear out slightly in an effort to force me back.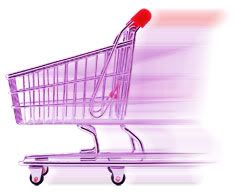 Okay. That did it. I'm all for respecting my elders, and I adore elderly people, I really do; however, blatant rudeness? Hell no! But what got me is my mouth. I controlled it…for once. I nearly killed me, but I did it!

However, the urge to snap, "Move it or lose it, Grandpa!" almost made my teeth explode.

I glanced at the cashier, and it must've been the look on her face but she in turn glanced at the old man, a strange expression of "Oh, sh**" on her face, and motioned for him to move. Surprisingly, he did.

And because they took so long to write a check and refused to move so the line could advance, said line was backed into the food aisle! They had to open two more registers.

Okay, deep breath. I can do this. I can buy my groceries, pack them, load them in my Blazer, and get the hell out of Dodge before I lose my ever lovin' mind.

Well, it wasn't quite so easy. Save A Lot doesn't carry our brand of coffee, so I had to drive a few yards up the strip to Riesbeck's. The kids waited in the Blazer for me. After all, I was just running in for coffee, right?

Fifteen minutes later, I staggered out of the store and fell into the driver's seat.

"What took you so long, Mommy?" Wee Man asked.

One woman was having a fit at the 8 Items or Less register because she was told she had to buy four of the sale items she wanted to get two free. So the stock boy drove to freaking Alaska to check the shelf and got lost on the way back!

Pant-pant!

So I move to the 10 Items or Less register, where another woman's total came to $37.06. No, no! Don't do it! Woman, I command you to hand her another dollar bill—but no! She digs in her wallet for five wonderful hair-pulling minutes for a nickel and a dime!

Pant-pant! Oh, but it gets better!

Since Wendy's is at the end of the parking lot, I buzzed through the drive-through and got the kids sandwiches. On the way out, the one entrance farthest away was busy, so I went back through the entrance that leads into Riesbeck's lot to exit that way. It's a three-way stop with two stop signs within ten yards of each other, followed by either turning left to go out the proper exit where there's a right-hand turning lane, or go straight into the parking lot. I stopped at the one sign, then stopped at the next, and sat there to make my left-hand turn to the third sign…and sat there…and sat there….

Elderly people were leaving the lot and would not let me out. Hello? Does right of way mean nothing to anyone? It has been my turn to go next for five minutes now. Hey, lady! Do you know what the brake is? You jerk! You don't get in the damn right-hand turning lane to turn left! Finally, my turn! I edge out beyond the sign and—WHOOSH! This old woman with blue hair and who could barely see over the steering wheel, driving an SUV worth every bit $40K, left a trail of fire behind her to cut EVERYONE off and make it to the exit.

After I sat there for minutes on end, I let loose with a string of expletives and mashed the gas peddle, weaving and bobbing, baby! Weaving and bobbing!

Oh, and the air over the parking lot was a lovely shade of sapphire blue.

But I had to cross the entire lot and exit through the service entrance because no one would let me out at the stop sign so I could exit the normal route.


By the time I got home, I stuffed groceries wherever I could find room and then crashed into my chair utterly frazzled.

I'm buying a taser to use in the stores AND a big monster truck with a cattle catcher on the front of it for those rude-beyond-comprehension ijits in parking lots.

Anyone else enjoy a day out on Friday? Hmm?