As everyone knows, I write erotic romance and erotica. I write a little bondage and spanking, handcuffs here and there. Just wrote my first menage actually and it included male/male. So as a writer, I try to work it bayyybeeee! lol
So what am I getting at here? The way some writers can get into the heads of their characters. And for this discussion, characters in sexual situations involving the practice of BDSM. The fact is you don't always need to experience something to write it well. That's where the author's imagination and good research comes in. Well, we writers don't always tout the genius of others, although we can be quite complimentary and supportive, but I just had to say something about a new author.
Sarah Masters.
This author knows how to get into the head of her characters without a doubt. I'm published with Freya's Bower and I saw this new title on their home page. The cover pretty much drew me in. Very dark, sexy. The title of this story is Dominatrix.
At $1.25 it's a real bargain, so I made the purchase. To be honest, I'd never read an erotic romance or work of erotica that portrayed a female Dom. Everything I'd ever read had used the big alpha male. So this quickie of Ms. Master's really intrigued me.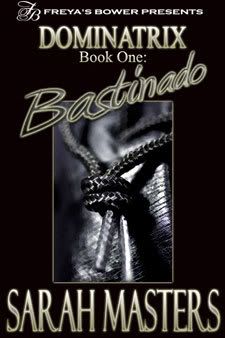 She gave the reader insight that I'd never seen portrayed before. The emotions of her leading lady as she went about her work rang so true. Imagine a woman wielding a whip to a man who has paid her to do so. Then imagine this same woman showing her vulnerability, just opening up her soul and spitting out everything she had to the reader. The entire story, while depicting her at work, focused on Mistress Shadow's internal conflict. The emotions her submissive brought out in her.
During a recent discussion among some writers about writing BDSM, Ms. Master's book was touted by several who had read it. One writer said it all quite succinctly when he expressed the only negative about this book. It was too short--he wanted more. And I so agree. As I understand it, there will be a series of ten from Sarah Masters and I encourage everyone to sample her incredibly well-written work.
To pick up a copy here's the link: http://www.freyasbower.com/index.php?main_page=product_info&cPath=5&products_id=165
Oh, and I just found out she has a new title available on January 13th entitled "Trussed". Don't forget to check her out.
On another note, my highly romantic erotic novella, His Sweet Obsession, will release on January 15th from Whiskey Creek Press Torrid. Stop by my website and read an excerpt.
http://tessmackall.literalseduction.com/my-books
and if you like it, stop by Whiskey Creek Press Torrid on January 15th and pick up a copy.
http://www.whiskeycreekpress.com/torrid